We started our short trip Monday 14, at 4.00 p.m. from Duesseldorf - Weeze airport. At about 6 p.m. we landed outside Stockholm at Skavsta, 90 km from the capital.

After 2 hours driving with the bus, seeing a beautiful countryside with lakes, woods and meadows, we reached Stockholm City - already our sight from the bus was breathtaking by landscape.
With the "Tunnel Bana" we drove to our hotel in Kungsholmen, Sankt Eriksgatan. Late in the evening we even went to the "PUB" (where Greta worked as a sales woman for hats, when she was 14). This building was lightened very well. Because it was closed, we visited next day.
That Tuesday was Gretas 18th anniversary day of death. This day was a great experience for us. All ways we did, we made by tunnelbana: all escalators ran so quickly. At all times of day and night so many people are on their way - but, where had been all the lots of older people, that must populate Stockholm, too??

At station Slussen (Soedermalm) was a great sight over all the old buildings and the water, everywhere.

Slussen
We climbed up neverending wooden steps high to Soedermalm, so we couldn't feel our legs. But then we stood in front of the Old Mosebacke Theatre, where Greta also stood at the age of 7, loving all about theatres. The old entrance of stone still is in function.
Then, we went over bumpy pavins stone to Katharinen Church, that looked so lovely, it was broken twice in former times. Here Greta has been confirmed. In front of this church a small cemetary is located. There we saw the grave of Anna Lindh, formerly Swedish foreign minister, murdered some years before.
Then we reached GretaGarbos-Torg, a nice little place with benches, in front of Katharinen School. There one can see a white metal profile plate of Greta, which looks very beautiful.

Sitting on a bench this view acted up on us. We felt its magic, really!
In front of this place there is a plaque with information about Gigi. There we put some of the coloured GG pictures, edited by our Delilah, which we had taken with us. Waiting there with excitement, if someone would notice, we got disappointed.
Then we went into Katharinen School, which is restored very beautiful. We spoke with the director; very well she remembered John and TJ from visiting her last year. She received some prints of the approbiate sections of the home page, concerning her school, and some pictures of GG, too.
She was very enthusiasted about, and allowed us, to explore the building. It was a very special feeling, to climb up the old steps, the same, that Greta did as a child.
We went up the upper floor, where her classroom was located. The old doors, the high rooms, as in her times - an uncredible feeling.
After that we went to GoetGatan, to that house, where formerly were the hair dressing saloon, she worked at with the age of 13. Nowadays here you can find a boutique, where young girls work. They had no knowledge of the shop's history. From John they got the report about the old saloon, and some colourized pictures. So nice to see, how astonished these girls look about!

Boutique
Then we changed the streets side, where lies a special confectionery. See, we looked at a large picture, in the middle of the shop's window. Under her picture there were presented some little "Greta Garbo Cakes". TJ buyed some of this very expensive cookies. A little later, we felt its fantastic taste. Once more, John handed pictures, adored by an older shop assistant. Then we learned, that GGs pictures are seen there only at her special days. In assortment, day by day, are that lovely cookies.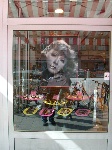 Greta Garbo Cakes
That day was made full of sunshine, fitting well at GGs rememberance day.

Going to Blekingegatan 32 (there she growed up), we were disappointed, because all of the old houses were pulled down. At the place, where stood her house, a bust is placed and lightened (in the night) high above.
Later we went by bus to station Skogskyrkogarden: The cemetary, where her grave is. At the flower shop we bought four little carnation flower pots and two candles on a grave.
The cemetary looked so beautiful, a place of recovery, and worlds cultural heritage. Entering the administration, John once more gave some pictures and the home pages report of this cemetary to the employee.
After that we arrived at the chapel, where 1999 the funeral service was celebrated. Being here, we could see her grave. Going steps down, straight ahead the way, then steps up, we reached.

The Chapel
This moment, I had no words, were overwhelmed by so much kind of feelings! It is not to discribe. You must experience this visit by your own. This was one of the most touching moments in my life.
At both sides of the grave stone, in a long row were planted beautiful flowers of spring, still closed the blossoms. A little we cleaned and polished the stone, and I planted our flowers. Then I ligthened two candles of a grave.
We rested a while at the bench left of her grave, taking our GG cakes. Such a delicious thing we never ever had eaten before; it was from the finest - divine, garboesk; what a unique taste!

The sun was shining, so many birds were singing, what a great, peaceful atmosphere. A place of calm, freedom and harmony, we felt so.

After a long while we went to search for her parents grave and her sisters. After an endless time, we found. We were so sad, that there were no plants, no flowers, nothing....
But we went back to GGs grave, to say GoodBye, this farewell touched us so much. We were sad too, seeing nobody all the time, we were there: One know, "The prophet means nothing in his own country".

Her Parents Grave
A special deep feeling touched us, as we saw a younger stag. First we thought, there were a huge statue, so it stood without any movement, but suddenly it jumps, turned very shy to us, stood still once more, before going away. TJ meant, GG had sent it....

The Stag
It was so hard for us, to leave this touching scene and place. Only here one feels Greta so near.

In that evening we went again to "PUB", and this time we went into it, because it was open. Nothing at all remembered at her, even the atmosphere, seems us disappointed.
Within an antiquarian we found further biographies of Greta at a fair price. I got a Swedish Bio from 1959 with many beautiful pics.

Unfortunately, this evening it was raining so strong. But being so tired and exhausted from so much impressions, soon we felt to bed, and slept so deeply.

The next day, our last, we left our hotel early. We drove to Stockholms Old City, Gamla-Stan. Water everywhere, and the many historic buildings were very impressing.
We went to the King's palace. At this time we saw some parts of a state visit with a line of vehicles, escorted by police. TJ was not sure, but thought, he saw Queen Sylvia for a moment.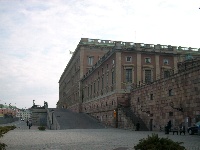 King's Palace
What a beautiful way, when going to Dramaten Theatre, which is restored in a extraordinary way.

Our last stop leads us to NK Store. Here Greta took advertising shots at the roof (Our daily bread). This also was very impressing. The atmosphere, like in former days. At the basement is located a very fine food stuff and conditory.
Now it were time to take the bus back to Skavsta. The same fine views as before. Our machine landed 40 min too late near 8.30 p.m., Wednesday 16, 2008.

This short trip was so unforgettable, and the joy we got, will last for such a long time. We hope, we take you with us the next time. That would be great.