Portraits by Leslie Penn
INTRODUCTION
Leslie Penn is the artist of Hollywood Pastels. She started this work in early 2000. Since this she sold over 2000 pastels to customers all over the world. A couple of years ago Penn devised a way of "colorizing" old photographs to make new works of art. Her work is composed of ink and pastel pencil and it could take several layers of pencil and manipulation to enhance the images. Every one of her works is original and one-of-a-kind. No two are alike and they are not prints. When you purchase her work you get a Leslie Penn original.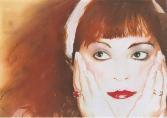 Visit Leslie's Homepage HERE!
PENN ABOUT GARBO
(in Treatment)
You can buy her pastels
HERE
!
| | | |
| --- | --- | --- |
| | Introduction | |
| | | |
| --- | --- | --- |
| | Artists about Garbo | |
| | | |
| --- | --- | --- |
| | Garbo's Personal Art Collection | |
| | | |
| --- | --- | --- |
| | Sketches by Cecil Beaton | |
Garbo Sculptures and Busts
Part I
Part II
Artwork about Garbo
Part I
Part II
Part III
Part IV
Part V
Garbo Fan Art
Caricatures by David Lee
Carchets by Kundu Nirlay
Fan Art by Clovie
Fan Art by GarboWerner
Fan Art by RubyRed
Fan Art by TJ
Garbo-Caps by Theo
Garbo's Dreampinups
Greg' Garbo Stories
Portraits by Carmen Luna
Portraits by Leslie Penn
Stockholm Tour by Bea
The Faces of Harriet Brown

© Copyright 2005 – www.GarboForever.com – Germany – TJ & John – The Webmasters