Garbo Fan Art by Clovie
INTRODUCTION
My discovering of Greta Garbo started at my teenager age during a conversation when I was looking for a bit of repairs about my own style. Then, someone from my family told me that I had a slight resemblance with Garbo and also some common points in values she tried to transmit, but without to be confused with her. It happened that my style was also compared with Diana Rigg and especially Sean Young, but I always focused on my own life without to be perturbed by that, all the more I'm not strongly model looking. When I noticed that I could play with some angles of my face to do like a mime reminding them, I found it funny and nice to do this tribute for them as they are particularly sympathetic, so I have a discreet mime activity now. Doing that, I was also motivated by the fact that, in the usual life, people seem very interested in joining their kind, their style, like a tribe to which belong desperately to find a place or love in this world.
Garbo Look-A-Like Photos by Clovie
Photographed in Spring 2007


Garbo Look-A-Like Photos by Clovie
Photographed in 2005
ABOUT GARBO
I've seen really interesting things about Garbo that I have been told before: her sense of sensitivity, her stylish orientation, her ability to be funny and spiritual with really good quotes. Queen Christina and Mata Hari are often considered as her best movies. In Queen Christina, she looks really independent and herself. In Mata Hari, there was a melting of cultures like a symbol of tolerance so I was really surprised that the world war II happened just after. But other movies were good, for example Anna Christie where she represents women social problems in the same direction as Louise Brooks in Diary of a lost girl. In fact, the movie considered as showing the most her beauty and smile is Grand Hotel because there are big shots of her face even if the scenes are short and not at the beginning. I find interesting to stay connected or even to promote this kind of personality to defend what we think is good. "Better the values are, better the rules are" is my own motto.
See and read more about Clovie HERE!
Garbo Art by Clovie
"Siren Garbo" "Magma Brain" "Phoenix Garbo"


Poetry about Garbo by Clovie
- Mata Hari -

When gentlemen are out
They laugh, they shout
I seduce and cheat
Searching hearts to hit

Champagne flows on vanity
Stolen kisses and luxury
Everyone wants to tease
But no one can be pleased

In the harem, a rose doesn't grow
Between nettles and sorrow
But in the heart of the dancer
In love with her fellow
Garbo Art by Clovie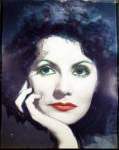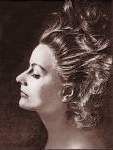 | | | |
| --- | --- | --- |
| | Introduction | |
| | | |
| --- | --- | --- |
| | Artists about Garbo | |
| | | |
| --- | --- | --- |
| | Garbo's Personal Art Collection | |
| | | |
| --- | --- | --- |
| | Sketches by Cecil Beaton | |
Garbo Sculptures and Busts
Part I
Part II
Artwork about Garbo
Part I
Part II
Part III
Part IV
Part V
Garbo Fan Art
Caricatures by David Lee
Carchets by Kundu Nirlay
Fan Art by Clovie
Fan Art by GarboWerner
Fan Art by RubyRed
Fan Art by TJ
Garbo-Caps by Theo
Garbo's Dreampinups
Greg' Garbo Stories
Portraits by Carmen Luna
Portraits by Leslie Penn
Stockholm Tour by Bea
The Faces of Harriet Brown

© Copyright 2005 – www.GarboForever.com – Germany – TJ & John – The Webmasters