Winter, 1920
The Soap Girl
The family still had many problems. Anna Gustafsson wanted Greta to stay at home. But they needed every penny. Kalle was still ill and couldn't work. Greta accepted an offering to work with a second and even a third barber. She took her job as a soap girl very serious. Her salary was seven kronor a week. She proudly gave her earrings to her mother but she kept the tips to herself and spend them on chocolate which caused her to put on some weight.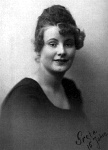 Greta early 1920
April 18, 1920
Confirmation
On Sunday, Greta was confirmed by Pastor Runo Ahlfeldt of Katarina kyrka in Södermalm.
June 1, 1920
Karl Alfred dies
One day, Greta came home and found her father burning with fever. Karl Alfred complained of pain and was so ill he couldn't even stand up. She brought him to the hospital but it was too late. Some time later Greta's father died of "nefrit chronicus". This is a chronic inflammation of the kidneys.

Kalle was buried in a simple plot at Södra Skogskyrogåarden. For a time after his death Greta get up in the night and run to his grave to see that he had not been buried alive. Her father's death changed many things for 14 old Greta.


Gustafson's Family Grave
Greta's friends advised her to find a better job. Some time later, Greta filled out an application for the PUB. The Pub was Paul U. Bergström's department store, located in Norrmalm. Greta stated herself as 15 and spelled her name as "Gustavsson". Soon after, Greta was given a job. She was running errands and unpacked hats in the millinery department.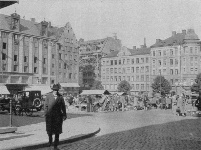 The PUB, Sweden mid 1920s
August, 1920

The Shop-Girl
After a while Greta was transferred to woman's clothing department. She was the youngest of the ten sales girls. Magda Hellberg was the head of PUB's woman's clothing department. Greta was a shop girl now. Her starting salary was 125 kronor per month.
Miss "Gustavsson" was known as very ambitious, quiet and self-restraint. Greta slowly transformed into a mature person. She started to dress herself more lady-like. Her manner and speech changed too and she even lost some weight. Greta's family and friends treated her like an adult now. The 14 year old helped the family with her salary. Greta never gave up her ideas about the theatre.
Autumn, 1920
A new Opportunity
Bergström also arranged mail-order catalog sales. Paul U. Bergström was the owner of the department Store. One day, Hellberg was asked to suggest someone to model hats. Those were for the upcoming spring 1921 catalog. She quickly named Miss "Gustavsson".

Hellberg said that she would be perfect for that. She said that Greta always looks clean, well-groomed with a good face. Greta accepted the new opportunity and said "Oh, how happy I am!". Hellberg believed that this was the longest sentence she ever heard her say at one time.
Greta was going to model for hats and soon she made photos. The Spring catalog of 1921, showed Greta with several hats and poses. This was a success and Greta got another catalog offer. And the opportunity to earn extra money as a fashion model at PUB shows.

Greta's co-workers said that she constantly talked about movies and theatre. They all knew that she wanted to be a professional actress.
November, 1920
Advertising film
The PUB was one of the best known department stores in Sweden. Even actors, directors, producers, writers and other film worker, visited the building in Norrmalm. After her first modeling triumph, Greta met Captain Ragnar (Lasse) Ring. He was a writer/actor who was now directing short films and commercials.

Those products were also shown in local movie houses as "Advertising films". A short film was planned for the 40th Anniversary of the PUB. Lasse Ring woul produce and direct.

Many who worked for the PUB hoped to get assigned for "bit" parts. The production was titled Herrskapet Stockholm ute på inkop. Later known as Mr. and Mrs. Stockholm Go Shopping.

Greta in How not to dress

Greta's first "Film"
The director offered Greta 10 kronor a day for a small part in the production. In her first "role" she and other models had to wear an outrageous outfits. This section is known as Från topp till tå or How Not to Dress.
December, 1920
The Premiere
The film was first screened in Stockholm theaters on December 12, 1920. This advertisement told the story of a family whose home had been burned.

Now they are helped by the staff of Bergström's. Greta was assigned the role of the eldest daughter. She comes to PUB with her family to replace their lost wardrobe. They are re-dressed "Från topp till tå (from head to toe)". This was one of the store's mottos.
Greta's first romantic relationship
Greta had attracted an older admirer during the making of the short film. Max Gumpel, a bachelor in his early thirties. He was the owner and manager of one of Sweden's most successful construction firms. He often visited the set. Gumpel's 7 old nephew Erick, was also in the film. Erick played Greta's little brother.


Gumpel in the 1930s

Years later Max said that he was very taken by Garbo. Greta liked his affable style and manner. One day he asked the 15 year old Greta to dine with him. She accepted and went to his glamorous apartment. Anna Gustafsson was pleased to see her with such a fine gentlemen.

One day Max made her a present. A tiny gold ring with a small diamond in it. The dated for a while but one day in 1921, they separated. They were still good friends afterwards.
Greta and Alva in En Lyckoriddare
In late December, Greta took a week off from work. She and Alva had been promised work as extras in a motion picture. The film was En Lyckoriddare (A Fortune Hunter) The historical drama premiered in March 1921.
Sommer, 1921
Our daily Bread
Director Lasse Ring asked Greta to appear in another promotional film. Ring would direct again. This short film was for the Consumer's Cooperative Association of Stockholm.

The 27 minute short titled Konsumtionsföreningen Stockholm med omnejd. A small Promotional Film for Sweden's Baker Industry. It had Greta and a group of friends have tea on the rooftop terrace of the Strand Hôtel and later doing picnic in the park. Greta's part in the short film is known as Our daily Bread.

Screencaps from Our daily Bread.
Greta and Alva in Karlekens Ögon
In early 1922, Greta and Alva worked again as extras in a film. The film was Karlekens Ögon (A Scarlet Angel). The movie drama premiered on October 1922.
Autumn, 1921
No big motion picture with Lasse Ring
Greta worked at PUB for over a year now. Lasse Ring asked her if she would like to be part in his next film. This was going to be real motion picture about a "Nordic Love story".

Sadly, the PUB's personnel department refused to let her go. Greta's boss told Ring that he had to stop giving the girl crazy ideas about the movies and so she had to decline the offering and never made her motion picture with Lasse Ring.
July, 1922
A third Advertising/Promotional
Short Someday and 1922 a third Advertising or Promotional Film with Greta was made.It was called Sverige och svenska industrier. No infos are known and the short is lost. In this short film, Greta points at the town of Malmö on a wall map.
A new Director
Producer/director Erik A. Petschler saw Greta in front of a shoe store. Greta captured the filmmaker's attention, Petschler was fascinated. He later saw her again, behind her counter at PUB.

Greta heard about the film he was planning and hoped to get a part. After a brief audition, Petschler offered her a part in his next film. The film was Luffar-Petter.
Greta decided to leave the PUB
Greta hoped to get a release for the 2 weeks shoot. PUB declined and so Petschler asked the head of the PUB personally. He too had no success. Greta decided to leave the PUB after nearly 2 years.

On July 22, she had her last day in the department store and stated her reason for leaving as "To work on Film". She was almost 16.
August, 1922
Luffar-Petter
Filming of Luffar-Petter (Peter the Tramp). This was low budget comedy, directed and produced by Erik A. Petschler. It only had a budget of 15.000 Kronar and was filmed in Stockholm.
During filming, Greta was kinda afraid. She feared that she might had to accept a regular job again. Her family needed her support. Greta couldn't afford to stay unemployed for so long. She hoped to get a new film assignment after Luffar-Petter. She asked her co-stars for suggestions.

They suggested that she should look around for producers and directors in the Stockholm area to get a new job before filming of Luffar-Petter ended. Greta even tried to see Mauritz Stiller. Stiller had worked with Greta's Luffar-Petter co-stars. Unfortunately, Stiller was too busy with his latest film production.
Petschler's advice
Petschler gave Greta the advice to do an audition for a scholarship at the Royal Dramatic Theatre Academy in Stockholm. Known as the Dramaten School.

Auditions for the next year, would be held by end in late summer 1922. Petschler also promised her to arrange a meeting with Frans Enwell. Enwell was once the head of the school. He now worked with young students privately. Petschler hoped that he would work with her.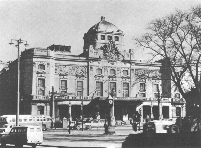 The Dramaten Theatre in the 1920's

Frans Enwell agreed to coach Greta
After their first meeting, Enwall agreed to coach her for the audition. They had less time, to work on the scenes they had chosen for the audition.
The Audition
The day of her audition had come. Twenty jurists were waiting. Greta was frightened, she heard her name called, walked onto the main theatre and began reciting her speeches and scenes perfectly.
Greta had been accepted
After some time, a telephone call finally told her the Greta news. She had been accepted. Greta was happy and thought she would almost die. Now she was on her way to become a real actress.
September, 1922
Her 16th birthday
Greta returned to the Academy on September 18, 1922, for registration. It was Greta's 16th Birthday.
The Royal Dramatic Theatre Academy in Stockholm was one of the largest and finest drama theatre in the world. Swedish Actor and film director Gustaf Molander headed the school.

He was the Academy director. The theater school was a two-year program were they were taught everything from acting and singing to set design and fencing.


A Page from Garbo's Dramaten notebook
November, 1922
Greta's first public performance
The Acting Students also participated in small Theatre productions. Those were for the Kungliga Dramatiska Teatern (Royal dramatic Theatre). In Sweden simply known as the Dramaten Theatre.

Greta had her first public performance on November 4. The comedy titled La belle aventure (The Adventure). She only had one single line.
December 26, 1922
Premiere
Luffar-Petter premiered at the Odéon Teatern in Stockholm. Reviews of the film were mixed. Greta attended the film's premiere with Mimi Pollak. Mimi was her best friend and also an acting student.
After Christmas holidays, school life continued at the Theatre Academy. Class hours were 9:00 to 5:00. Greta loved the school.

She had a close friendship with some student colleagues. Mimi Pollak, Vera Schmiterlöw and Mona Mårtenson were her best fiends. They called her "Gurra" (related to the name – Gustav).

Greta, Mimi other students at Dramaten
Greta and Mimi were part of a celebration to a well-known Norwegian actor. It was his final performance at the theatre at the Grand Hotel.


Mimi, late 1920

Greta told Mimi that she would like to sing something for him. She started singing a song from the revue Fru från Hagalund. Everyone in the elegant mirrored ballroom was surprised.
April, 1923
Constant struggle
Greta always was in constant struggle when it comes to money. The students received 50 Kronor a month but Greta always needed money.

Her sister Alva helped her whenever she could. Even her Uncle David arranged free meals at the Strand Hotel, were he worked. Uncle David was the brother of Greta's father.
After Greta's Easter vacation, she heard news from director Gustaf Molander. He told her that Swedish master director Mauritz Stiller wanted Greta do an audition for his next planned film – Gösta Berlings Saga. Stiller was born Movscha Stiller in Helsinki, nicknamed Moje, in Finland 1883.


Stiller, the swedish director

The director was impressed when he saw her. He was impressed with her eyes and face. Stiller stared at her, for a very long time. After Greta left he said that there is something extraordinary about her. He really wanted her to do a screen-test for the part of Elisabeth Dohna.
Screentest
Greta was nervous but the screen-test was a success. Stiller finally found the actress to play his Elisabeth Dohna. He told her that she has to loose some weight. Filming on Gösta Berling Saga started soon.
July, 1923
Svensk Filmindustri Contract
August ,1923
Gösta Berlings Saga
Selma Lagerlöf wrote the best selling novel in 1890. Stiller started filming Gösta Berlings Saga in late August. The budget was rumoured to be the largest ever Svensk Filmindistri's.

In the first days, Greta was very scared, nervous and restless. She felt unsecure about her work and Stiller pushed her hard. He believed the results would be worth it.
Stiller was known to dominate and create people. He even told her not to give any interviews when he is not by her side. Greta said that it was a love-hate affair. At times he loved her as much as she hated him but that was what may have tied them together.

They began to go to social events, attended the theatre and went to restaurants. He also helped her selecting her personal wardrobe and introduced her to his circle of artists and friends.
Oktober, 1923
Back on Stage
Filming was put on hold in mid October and November. While Stiller waited for the season's first snowfall in January. Greta went back to the Theatre Academy and appeared in a stage play.

This was apart in J. M. Barrie's The Admirable Crichton.
One day Stiller asked Greta to think about changing her name. She already thought about changing her name. Greta thought that Gustafsson wasn't good enough for a stage career. Stiller searched for a name that was shorter, modern, elegant and international and could be pronounced easily in any language.


The Name Petition

He than suggested the name Gábor. He liked this name and tried out several variations. On November 9, Anna Gustafson signed a petition to allow her daughter change her name to Greta Garbo. Another story says that Greta's friend Mimi Pollak found the name "Garbo".
January ,1924
Finally Snow
The snow finally arrived and the filming for Gösta Berlings Saga continued. Greta wanted to return to the Academy after filming was finished. Stiller and Garbo were rumoured to have a romantic affair.

He was now Greta's protector and mentor. A father-like Figure. He later claimed that he taught her everything and that she takes his instructions carefully. Stiller said that she was like wax in his hands.
March, 1924
Gösta Berlings Saga Premiere
Production finished.The final version of Gösta Berlings Saga was nearly four hours long. Part 1 & 2 premiered in early March, 1924, in Stockholm. Greta and Stiller went the premieres. The Swedish critics were okay but it was better received outside of Sweden.
Germany's largest film production company, Trianon Film wrote Stiller. He asked them if he would be interested in making some films with them.

Stiller already had considered a new film and some time later, he travelled to Berlin and met the German producers.
April, 1924
Studies continued
Greta spend her Easter break at Mimi Pollak's family. Fellow student's asked them to do a performance for the local boys school. They agreed and collected 260 kronor for the work. Studies went on back in Stockholm. Greta again appeared on stage.
Soap Advertisment
In early 1924, Greta and Alva photographs appeared in an Advertisement for YVY Soap. The pictures appeared in a 1924 Film magazine – Filmnyheter (Film News).

It is not clear sure when those pictures exactly were published. YVA, used a Portrait from Garbo in Gösta Berlings Saga and an Portrait of Alva. It is possible that Svensk Filmindustri had their hands on this.
May, 1924
New deal with German Trianon AG
In late May, Mauritz Stiller signed an agreement of a production with the German Trianon AG. In Sweden he wrote the screenplay for his next film. It was titled - Odalisken från Smolna. A story of Russian refugees trapped in Turkey. Stiller wanted Greta for the lead role.

Filming would start in July or August. In an additional deal, Schratter from Trianon, advanced Stiller 5,000 Kronar. This was to buy Greta a new wardrobe for her promotional trip to Germany.
Print Ads
At the Dramaten, Greta and her student colleague Vera Schmiterlöw made some extra money. They appeared in an advertisement for a new Lancia Lambda. Greta and Vera were paid 75 Kronars.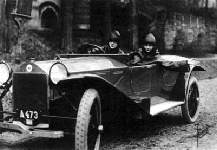 Greta in a Lancia Lambda.
Early Summer,1924
Driver's license
Greta did her driver's license.
Post-Phoned production
Odalisken från Smolna was slated to start filming in June or July. This plan was now post-phoned. Stiller went to Germany and re-newed/signed the contract in Berlin.
Stiller's dream
Dearest to his heart was the formation of a giant pan-European film combine. He wanted that this would internationalise the production and distribution of films by such major companies.

The companies were Germany's UFA, France's Pathé and Sweden's Svensk Filmindustri. UFA and SF had already tentatively agreed.
On August 16, Stiller, Garbo and Gerda Lundeqvist travelled to Berlin. The journey took two days and for Greta it was the first time abroad. The Germans welcomed the Swedish stars warmly. Stiller, Greta and Gerda stayed in Berlin's Hotel Adlon.


Garbo, Lundeqvist and Stiller in Berlin

Officials from Trianon arranged a tour of the city and showed them the modern studio facilities in Berlin. Greta even appeared in newspapers and magazines.
Gösta Berlings Saga Premiers in Berlin
On August 20, Gösta Berlings Saga, premieres at the Mozartsaal Theatre in Berlin. Mauritz Stiller gave a speech from his box and pulled Greta into the spotlight with him to acknowledge the applause.


Gösta Berlings Saga, premieres in Berlin

The German press gave the picture amazing reviews. Greta said: "The German people are wonderful they do not "touch" you but they have their arms around you – always."
September, 1924
Back in Stockholm
On September 20, Stiller signed a new contract. He was assigning the Scandinavian distribution of his Trianon films to Svensk Filmindustri and sorted out other deals with Trianon.

He was also planning a new filming start date for Odalisken från Smolna.
Kungliga Dramatiska Teatern
The Germans wanted Stiller to come back to Berlin. Stiller wanted Greta to travel with him but she was not yet free. She was still in her Dramatiska Teatern contract.

On September 25, Greta played in the Russian drama Höstens violiner.
October/November,1924
Nils Asther
Around this time Greta met Swedish actor Nils Asther at Dramatiska Teatern. When Aster saw her he was fascinated and even had a crush on her. But Greta turned him down.


Nils Asther
More Stage Plays
In October and November Greta played in Pär Lagerkvist's Den osynlige. On November 13 Greta performed in her final production on stage. She was on her way back to Berlin.
Louis B. Mayer
On November 26, Greta Garbo reached Berlin. Around the same time Louis B. Mayer and his family arrived in Berlin. The Metro (soon known as MGM) head was in Italy. He checked the progress of the Metro production of Ben Hur. Stiller was introduced to Mayer in his Hotel Adlon suite.

They talked, in Yiddish and with the help of an interpreter, about films. Mayer wanted Stiller to come to USA and make films for his new formed company – MGM. The legend is that Stiller said that if they wanted him they also have to sign Garbo.

This is a long story. Anyway, Mayer wasn't sure about signing Greta too. So, Stiller arranged a private screening of Gösta Berling Saga for Mayer. Mayer was sold on Greta by the end of the first reel. He said that it was her eyes. There was a softness and a womanliness about her that Mayer found quite appealing. He said that he will take Stiller, all right. As for Greta, he even wanted her more than Stiller. "I can make her a star", he said. Some time later, they confirmed an agreement.
The Letter of Agreement
A letter confirmed their oral agreement. MGM would pay his first-class fare to Los Angeles. They wanted him to set sail on May, 1925.
December, 1924
Constantinople
Finally Stiller started the production of his Odalisken från Smolna. On December 3, Greta and Stiller came to Turkey. The team lived at the Péra Palas Hotel in Constantinople. Garbo's leading men for the film, actors Einar Hansson and Conrad Veidt, would soon follow. For the team the days in Constantinople were filled with preparations and chaotic work.

Stiller wanted to shoot the film in Turkey cos it would have been cheaper. But there hadn't been much time to make the proper arrangements during his previous trip to Constantinople and soon production in Turkey would be complicated by the unstable political situation, many foreigners were suspected of being spies.
Odalisken från Smolna
Odalisken från Smolna told the story of an aristocratic Russian girl, who flees from the political confusion of her homeland and stows away on a ship, hoping to find her lover in Constantinople.


Garbo in costume

But the ship's crew sells her into slavery as an odalisque (concubine) in the harem of a Turkish prince. Some camera and location tests with Greta and Einar were filmed. This footage is lost.
Money Problems
After only two weeks the production had money problems. Stiller used the money advanced to him by Svensk Filmindustri and Trianon only gave the company a small amount of money. The Trianon office never answered the telegrams from Constantinople.

On Christmas day, Stiller went back to Berlin to find out what had gone wrong. The Trianon Film AG were rumoured to be bankrupt. The production of Odalisken från Smolna was put on hold.
Director G. W. Pabst
The News, that Trianon had collapsed and that Mauritz Stiller and his company were left in Constantinople, already spread around Europe.

Director G. W. Pabst heard about their situation and went to the Trianon offices and told them that he wants to use Garbo. Pabst was in pre-production of Die Freudlose Gasse (A Joyless Street). He tried to buy Greta's contract but the Trianon were uninterested.

They told him that nobody can make a picture with her cos they still want to make this big picture and that those rumours of bankruptcy were not true. Another rumour was that an American production company might finance the film too. Nothing is known about this. Maybe MGM?
Greta's time in Turkey
Stiller was in Berlin, sorting out the problems. Greta and the whole team stayed in Turkey. She spend her first Christmas away from home. She was invited to the Swedish consulate several times and went to parties there twice. On New Year's Eve, she went to a party in an Oriental gown.

It was of red and gold silk, Stiller had purchased it for her. There was a rumor that Einar Hansson and Garbo were romantically involved. Garbo was now waiting for Stiller and hoped that they could start filming soon.
SOURCE

Greta Garbo: A Life Apart – by Karen Swenson


(A Lisa Drew Book/Scrbner, New York 1997)


This is the best and most accurate book
about Garbos-Life
| | | |
| --- | --- | --- |
| | | |
| | | |
| | TIMELINE 1920-1924 | |
| | TIMELINE 1925-1929 | |
| | | |
| | TIMELINE 1930-1934 | |
| | TIMELINE 1935-1939 | |
| | | |
| | TIMELINE 1940-1944 | |
| | TIMELINE 1945-1949 | |
| | | |
| | TIMELINE 1950-1954 | |
| | TIMELINE 1955-1959 | |
| | | |
| | TIMELINE 1960-1964 | |
| | TIMELINE 1965-1969 | |
| | | |
| | TIMELINE 1970-1974 | |
| | TIMELINE 1975-1979 | |
| | | |
| | TIMELINE 1980-1984 | |
| | TIMELINE 1985-1989 | |
| | | |
| | TIMELINE 1990-1999 | |

© Copyright 2005 – www.GarboForever.com – Germany – TJ & John – The Webmasters