Garbo rumors
Introduction
What is a rumor? Wikipedia says: "It's an unverified account or explanation of events circulating from person to person and pertaining to an object, event, or issue in public concern".

Greta Garbo is well known all over the world, a woman who will not be forgotten. A myth, a symbol, an icon, a monument. She has already been one as long as she lived and she still got the same esteem and prestige today and in future.
That's why such an extraordinary person will always be involved in specs. Generations of movie goers, cineasts, fans, admirers or just curious people who like to read the yellow press or to listen to dirty gossip, are demanding for quaint details of Garbo's life. And they have always been served. In the past, in the presence and in future.

We have collected some rumors about Greta and her life. The Latin saying means: FAMA ERRAT. A rumor isn't right. But is that true? Mostly yes. But nor always. It's up to you, believe it or not. Maybe yes, maybe not. Who knows? Anyway, maybe Greta is smiling from heaven or even giving her Ninotchka laughing when she listens to the gossip what is going to be revealed. Greta, let's laugh together....
Did Garbo have a clipping service?
For sixty years, writers held an Olympiad of Superlatives to describe her impact on twentieth-century culture, but Garbo never cared what people thought or wrote about her. Or did she?

Her narcissism was a doubled-edged sword. In her heyday, after all, despite the professed loathing of publicity, "she was crazy about pictures of herself," said one MGM photo-studio hand. For Clarence Bull alone, she sat for more than four thousand frames without complaint. It was okay for people to adore her from afar. Post-retirement, she engaged a clipping service and read most everything written about her.

But unlike Marlene Dietrich, who did the same, Garbo did so out of curiosity, not litigiousness "She was like a junkie on a drug he hates but can't give up," says Green. "In her case, it helped fill up the time and was more proof of base humanity".

Her family denies she had a clipping service, but friends say manila envelopes full of articles invariably awaited her in the stack of mail upon her return from trips. A remark she made to Sam Green in the fall of 1975 tends to support the claim: "Somebody photographed me, evidently ... I was told that a whole mess of photographs appeared. I see them as rude. I don't know why I didn't this time."
Source: Garbo book
Michael Jackson's secret meeting with Garbo?
It is said that Garbo waxed lyrical about Michael Jackson in an almost girlishly adoring way. "He is a handsome and so musical, I never miss seeing him on television if I can help it. What a star he is!"

In the 1980s, the The Globe magazine wrote: Michael Jackson met Garbo secretly. He wore a beard, sunglasses and cap so nobody can recognise him. He went to her apartment for a secret meeting.

Thanks to Dave
Greta Garbo, Marlene Dietrich, Errol Flynn and Thomas Mann playing tennis?
One rumor is that during the 1940s, Greta Garbo, Marlene Dietrich, Errol Flynn and Thomas Mann were playing tennis in Hollywood.

The son of a wealthy businessman, owned the Brentwood Country Club at one point, and during the 1940's, the family lived in Hollywood.
Gregory (the son) described looking out at the family's tennis court one day and seeing, no lie, Greta Garbo, Marlene Dietrich, Errol Flynn and Thomas Mann playing tennis. Three of the most beautiful people in the world and a man who wrote about beauty.
Thanks to Nici
Garbo, Gilbert and the lie detector
One strange rumor is that one day in 1928, lie detector inventor William Marston (see the picture) was measuring the reaction of both Garbo and John Gilbert as they saw Flesh and the Devil.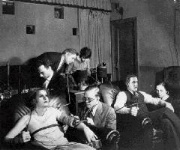 This picture is a photomontage.
Thanks to Andre
Was Garbo a man?
This is the most stupid Garbo rumor. In the late 1980s, some strange news magazine quoted Garbo: "After my death, a big secret will be revealed!".

The magazine guessed that she may was a man.
Was Garbo at the American premiere of Camille?
A rumor was that At Louis B. Mayer's insistence, Greta reluctantly agreed to attend the Hollywood premiere of Camille , on December 12, 1936 at the Plaza Theatre in Palm Springs.

She wore pajamas under a fur coat. She waved to her fans, walked through the front door, and out the back without bothering to watch the film.
Thanks to Kata
The Greta Garbo, Clark Gable and Cary Grant TV show
One rumor is that in 1991, the TV station IBS had the idea of a last-ditch attempt to resurrect their ratings. The show Cary and Clark, was going to be based on the premise that Cary Grant, Clark Gable, Greta Garbo, and Megan Mullally are roommates living in modern-day Brooklyn. But the idea was an unmitigated success.
It gave birth to a surge of interest in movies from the forties through the sixties. No teenage girl's locker could be found without a picture of Grant or Gable pasted on the door. Women adored them and men wanted to be them. It was an exciting time for the entire country. It is not known if this was really planned or just an internet rumour.
Thanks to Annie
Andy Warhol
When he was young, Andy Warhol saw Garbo at a party and drew a paper flower for her. Without saying a word, he pressed it on Garbo. What did G do?......she left it behind, all crumpled up.

So Warhol signed it and entitled it: "Flower Crumpled by Greta Garbo."
Garbo goes nude?
Department store, Bullocks Wilshire, was built in the 1920s to cater to the city's car culture. It drew some of its character from its show biz clientele.

Chic and sophisticated Bullocks Wilshire was spelled with an apostrophe from the time the store opened in 1929 until the 1970s, when the punctuation was removed to distinguish the place from run-of-the-mill Bullock's stores.

Many film stars visited the shop and it said that Garbo was one of them. The rumour regarding Garbo was that she asked a clerk to help her choose a swimsuit. When they went into the fitting room, Garbo removed her coat — which was all she was wearing.
Thanks to Isaura
Did Garbo had a son?
One silly rumor in 1969 was that Garbo had a son. She was photographed in France accompanied by a young man who was in fact the son of a friend.
Garbo marries with 80?
In the early 1980s or very late 1970s, some magazines reported that Garbo wants to marry a 30 years younger man.

The man she was photographed with walking in New York was her good friend Sam Green.
Did Garbo had an abortion?
It is rumoured that Garbo's hiatus from October 13, 1926 to April 18, 1927 could have been because of an abortion.
It is not known if this is true and if she was really pregnant and John Gilbert was the father.
| | | |
| --- | --- | --- |
| | Garbo Facts | |
| | Greta the "Soap-Girl" | |
| | Greta at the PUB | |
| | Garbo a Spy in WW II? | |
| | Was Garbo bisexuell or lesbian? | |
| | Garbo nude picture? | |
| | Garbo had a child which died at the age of five? | |
| | Garbo's half-sister? | |
| | Garbo's Relatives? | |
| | Anne Frank was a Garbo fan? | |
| | Garbo naked in her films? | |
| | Marlene Dietrich in The Joyless Street? | |
| | Garbo in Garbo Talks? | |
| | Various love affairs rumors | |
| | Various gossip talk rumors | |
| | Garbo References in Pop Culture | |