Michael Jackson's secret meeting with Garbo?
It is said that Garbo waxed lyrical about Michael Jackson in an almost girlishly adoring way. "He is a handsome and so musical, I never miss seeing him on television if I can help it. What a star he is!"

In the 1980s, the The Globe magazine wrote: Michael Jackson met Garbo secretly. He wore a beard, sunglasses and cap so nobody can recognise him. He went to her apartment for a secret meeting.

Thanks to Dave
The 1984 film Garbo Talks was d irected by Sidney Lumet and written by Larry Grusin. It was the tale of fatally ill Anne Bancroft, whose dying wish is to meet Garbo. It contained clips from Garbo's greatest films, and many believed it to be a true story.

Movie scene
In any case, it is not true – as many Garbo-philes insist – that she appeared as herself (back to the camera) at the end of Garbo Talks. The actress who did so, uncredited, was Betty Comden.

Betty Comden
The film was fiction but had some rough equivalents in real life. "She was compassionate about people who were ill to an unusual degree," recalled her friend Jane Gunther.
More Info HERE!
Greta Garbo, Marlene Dietrich, Errol Flynn and Thomas Mann playing tennis?
One rumor is that during the 1940s, Greta Garbo, Marlene Dietrich, Errol Flynn and Thomas Mann were playing tennis in Hollywood.

The son of a wealthy businessman, owned the Brentwood Country Club at one point, and during the 1940's, the family lived in Hollywood.
Gregory (the son) described looking out at the family's tennis court one day and seeing, no lie, Greta Garbo, Marlene Dietrich, Errol Flynn and Thomas Mann playing tennis. Three of the most beautiful people in the world and a man who wrote about beauty.
Thanks to Nici
Garbo, Gilbert and the lie detector
One strange rumor is that one day in 1928, lie detector inventor William Marston (see the picture) was measuring the reaction of both Garbo and John Gilbert as they saw Flesh and the Devil.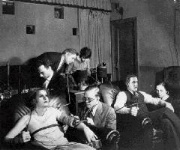 This picture is a photomontage.
Thanks to Andre
This is the most stupid Garbo rumor. In the late 1980s, some strange news magazine quoted Garbo: "After my death, a big secret will be revealed!".

The magazine guessed that she may was a man.
Was Garbo at the American premiere of Camille?
A rumor was that At Louis B. Mayer's insistence, Greta reluctantly agreed to attend the Hollywood premiere of Camille , on December 12, 1936 at the Plaza Theatre in Palm Springs.

She wore pajamas under a fur coat. She waved to her fans, walked through the front door, and out the back without bothering to watch the film.
Thanks to Kata
The Greta Garbo, Clark Gable and Cary Grant TV show
One rumor is that in 1991, the TV station IBS had the idea of a last-ditch attempt to resurrect their ratings. The show Cary and Clark, was going to be based on the premise that Cary Grant, Clark Gable, Greta Garbo, and Megan Mullally are roommates living in modern-day Brooklyn. But the idea was an unmitigated success.
It gave birth to a surge of interest in movies from the forties through the sixties. No teenage girl's locker could be found without a picture of Grant or Gable pasted on the door. Women adored them and men wanted to be them. It was an exciting time for the entire country. It is not known if this was really planned or just an internet rumour.
Thanks to Annie
Her most speculated rumor is that Garbo had love affairs we bothe sexes, woman and men.
When he was young, Andy Warhol saw Garbo at a party and drew a paper flower for her. Without saying a word, he pressed it on Garbo. What did G do?......she left it behind, all crumpled up.

So Warhol signed it and entitled it: "Flower Crumpled by Greta Garbo."
Department store, Bullocks Wilshire, was built in the 1920s to cater to the city's car culture. It drew some of its character from its show biz clientele.

Chic and sophisticated Bullocks Wilshire was spelled with an apostrophe from the time the store opened in 1929 until the 1970s, when the punctuation was removed to distinguish the place from run-of-the-mill Bullock's stores.

Many film stars visited the shop and it said that Garbo was one of them. The rumour regarding Garbo was that she asked a clerk to help her choose a swimsuit. When they went into the fitting room, Garbo removed her coat — which was all she was wearing.
Thanks to Isaura
Marlene Dietrich in The Joyless Street?
For Decades there was this rumour that Marlene Dietrich played a minor role in this film. A dark-haired woman waiting in the butcher shop line is often mistaken for Marlene.

A close-up of "Marlene"?
But it is actually the German actress Hertha von Walther. She had a much larger role in the original uncut version of the film.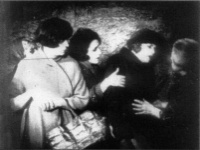 Marlene, Asta Nielsen and Greta.
This is the scene popularly believed to feature Marlene Dietrich as one of the extras in line with Garbo and Asta Nielsen.

Marlene as she looked around Joyless Street.
When the film was filmed, Dietrich was at home nursing her threemonth - old daughter, Maria.

More about the film HERE!
This German dancer was often mistakenly credited as Garbo. The naked woman was Martha Kreis from Düsseldorf in Germany and not GG.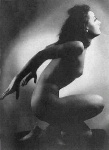 The story appeared in the late 1980s when Swedish opera singer Richard Lindskog discovered and bought this picture for 200 Kronor at a Swedish flea market. He was sure it was Garbo on the beautyful photo and some "experts" even agreed to this andsaid "Hips and hands are Garbo's".

The photography was then sold to European magazines for very big amount of money. A German woman then saw the picture in a magazine and said trhat it was not Garbo but Martha Kreiss, a German dancer and actresss from Düsseldorf in Germany. In the beginning of the 1940s, Martha had a contract in Stockholm's China theatre and this photo was used for promotional reasons.

What happened to Martha is a mystery.
Thanks to Bea.
One silly rumor in 1969 was that Garbo had a son. She was photographed in France accompanied by a young man who was in fact the son of a friend.
In the early 1980s or very late 1970s, some magazines reported that Garbo wants to marry a 30 years younger man.

The man she was photographed with walking in New York was her good friend Sam Green.
It is rumoured that Garbo's hiatus from October 13, 1926 to April 18, 1927 could have been because of an abortion.
It is not known if this is true and if she was really pregnant and John Gilbert was the father.