The author wrote that Dietrich and Garbo met in 1925, had a love affair that ended badly – and spent the next 60 years denying they even knew each other. Their affair had ended with such a deeply hurtful betrayal of Garbo, that GG flatly refused to acknowledge Dietrich's existence for the rest of their lives – even when the two women simultaneously shared lovers in Hollywood.

The screen legends met in post-World War 1 Berlin. Garbo, an agonizingly self-conscious 19-year-old, was here to appear in the film The Joyless Street. Dietrich, a 23-year-old mother – then black-haired and sexually voracious – had a small part in the movie. She was only too happy to steer Greta around Berlin's gay and lesbian bars, sex circuses and sleazy cabarets. Their affair began… and it ended just weeks later, in part because of cruel gossip by Dietrich, fuelled by jealousy of the rising star – one who seemed to gain in mere months what Marlene had struggled years to attain.

Marlene, educated and snobbish, had quickly realized that Greta, who grew up dirt poor with little formal education, was shockingly narrow-minded, ignorant and provincial. Marlene made her opinion known not only to Greta but to others in her circle. Marlene even revealed that Greta wore "dirty underclothes."

Garbo was wounded, shamed and traumatized. And when both performers went to work in Hollywood, a mutual friend, actress Salka Viertel, negotiated a deal between the feuding stars – they agreed not to mention each other's name or spill any secrets. The two enemies shared the most intimate friends and lovers, writer Mercedes de Acosta, actor John Gilbert, actress Dolores Del Rio, and others, without so much as a word passing between them or speaking each other's names in public. Finally, in the summer of 1945, Marlene decided it was time to attempt a reconciliation with Garbo.

After all, peace had just been sealed between the deadliest enemies on earth; it had been 20 long years since her own conquest and humiliation of Garbo in Berlin. Surely their war was over. Dietrich proposed a meeting an neutral territory, arranged by Orson Welles at the home of Clifton Webb. Marlene oozed charm. She paid Garbo extravagant compliments and larded on the flattery – to which all Garbo would say was, Thank you. Eventually, Marlene gave up and fled. World War 2 was over, yes. But Dietrich and Garbo would never sign a treaty.

Experts from The Girls - Sappho goes to Hollywood, by Diana McLellan
Most biographers have swallowed whole Marlene's vigorous denial of being in this film, which was shot in her hometown of Berlin in February and March of 1925, even though a film encyclopedia or two touches upon it. She was home having her baby, she claimed. Not so. Her daughter, Maria, was born on December 12, 1924.

Not only was she in the film, in a sizable supporting role, but the scene in which Garbo actually faints into Dietrich's arms proves that Marlene and Greta knew each other, touched each other, and trusted each other completely–at least for a while, in their youth.

The Girls - Sappho goes to Hollywood, by Diana McLellan
Finally, in her old age, Marlene confirmed that, yes, she was indeed in The Joyless Street with Garbo. She admitted it to her British late-life friend and biographer David Bret, an expert on the Berlin nightlife of her era. During one of our long talks, David told me that she had even described a scene she had acted in: "Yes, and in the end, I killed the butcher," she said to him with a small chuckle.

This was puzzling. I had seen her character storm crazily into the butcher shop, and, a little later, the dead butcher, with his bloody head lolling against a window. But no actual murder! Combing literature about the film's director, G. W. Pabst, I finally learned this: The ax murder perpetrated by the woman known to filmographers for years only as "Maria's friend" had been so bloody that it was cut by the German censors. In other words, Marlene had to have been there to know about it. That unbilled black-haired young woman in Pabst's film, to whom others later gave other names, is Marlene Dietrich.

A close-up of "Marlene"?
So why that particular lie? Why six decades of secrecy? During my long immersion in dozens of biographies, I had tried with all my might to slip under the skins of both Greta and Marlene. Hundreds of small details of how they handled their hidden lives, both before and long after their 1925 meeting, had unfolded for me.

The worldly twenty-three-year-old Marlene–a bohemian young mama with a notorious and compulsive appetite for the sexual seduction of other beautiful women, particularly backstage–had conquered the simple, sensitive nineteen-year-old Swede during their 1925 filming together. Their affair had ended with such a deeply hurtful betrayal that Garbo flatly refused to acknowledge Dietrich's existence for the rest of their lives–even when the two simultaneously shared lovers in Hollywood.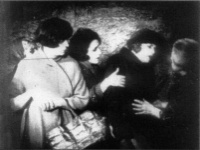 Marlene, Asta Nielsen and Greta?
The autor writes that Garbo's best girlfriend told Marlene after her arrival in Hollywood, that if she tattle even the smallest detail about Garbo, she will cut her dead ever after. Salka knew mcuh about Marlene and her life in Germany. If Marlene wanted Salka's silence about her 'secrets' in Berlin, she had to swear never to mention Garbo's name, nor to imply that she had ever met her.

Salka's friends, including even Garbo's and Dietrich's shared lovers, like Mercedes de Acosta, had to swear never to mention Marlene's name around Garbo, or vice versa. Often they used code names to get around the bar. Garbo was "the Scandinavian child," "the Viking," or "that other woman." Dietrich was "Mary," "our mutual friend," "Dushka." Salka guaranteed that Garbo would never encounter Marlene at Salka's house.

It's likely that Greta first admired Marlene when The Joyless Street director G.W. Pabst took Garbo to a winter ball thrown by the director of the Tribune Theater. There, as the crowd parted to gape, Marlene was revealed performing a ravishing, sexually charged tango. Marlene's thrilling mating dance must have enraptured the young Swede. Perhaps it was even she who urged Pabst to hire Dietrich for The Joyless Street. If so, she would regret it bitterly. Because what happened now would ruin the rest of her life.

Marlene as she looked around Joyless Street.
It takes little imagination to envision the birth of their Joyless Street affair. Marlene, for her part, would have found the young, curious, and stimulated beauty she caught in her arms on the set irresistible. Her own recent pregnancy, with its attendant toll of fatness, fatigue, and recusal from the sexual seductions she so relished, had taken a severe toll on her amour propre. What better opportunity to reestablish her transcendent sexuality now, two months after her baby's birth, than to seduce this pale, Hollywood-bound bumpkin beauty?

One can picture the erotically charged Dietrich laying tender hands on Garbo, nurturing the anemic young woman through the exhausting sixteen-hour days of the shoot with her delicious homemade goulash, comforting her with expert caresses, taking her clubbing at Berlin's outré nightspots–the transvestite Eldorado Club, the theatrical-political Romanisches Café–showing off her conquest at Betty Stern's avant-garde salon, educating her in sensuality as she would so many others.

Greta, for her part, must have felt giddy, reckless, daring. Her Hollywood deal was sealed. Why not kiss and run, drink deep of Berlin's thrilling draft and then–poof–leave it all behind? And the bitter end of the affair? It is even easier to evoke: One element was cruel and careless chatter by Dietrich, fueled by her jealousy of a rising star–one who seemed to have gained in mere months what Marlene had struggled to attain for years.
Thirty years later, Marlene Dietrich would give a most intimate description of Greta Garbo to a group of friends, including the writerproducer Sam Taylor, seated at a table in Monte Carlo's Sporting Club. Even at that late date, Marlene refused to say how she knew such details; she was bound by a vow, which she took in deadliest earnest. But she was more than graphic enough to convince those present that she knew precisely what she was talking about.
Copyright © 2000 Diana McLellan